Using local agency, the user is able to directly influence the piece through their own movement and interaction, as the avatar dancers respond to proximity and distance, direction and angle of movement, such as wind impulses. Direct touch is not encouraged and does not trigger any interaction with the avatar.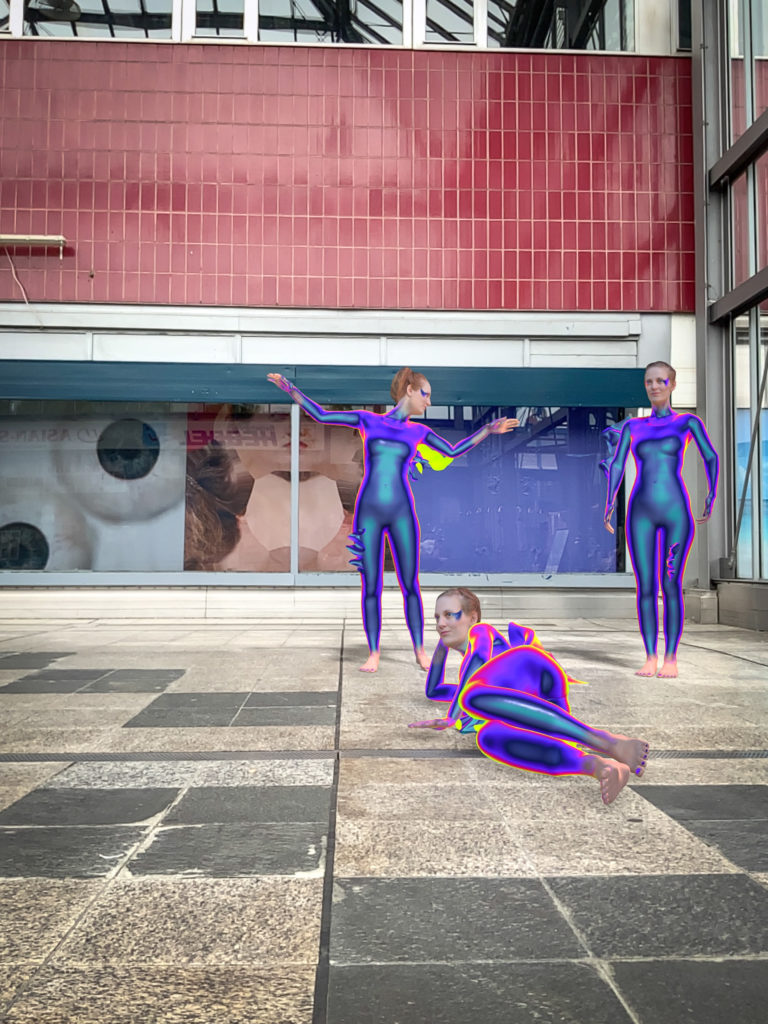 All reactions of the avatars to intended and unintended interactions of the visitor manifest in a unique, non-repeatable live version of the performance. For the interactive soundtrack as well as a reactive costume, the artist Charlotte Triebus and Mirevi team collaborated with composer Brigitta Muntendorf and digital makeup artist Ines Alpha. The work kin_ was realized in 2021 and premiered for Bayer Erholungshaus and Kunstverein Leverkusen at City C Leverkusen from August 2021 to October 2021 and has been shown at several other dance and film festivals.
kin_ is an exploratory dance piece about human corporeality and body-based art through and with digital technology and deals with the transfer of performativity into the digital, reality entanglements and the dichotomy of surveillance and intimacy. Noting that agency is not a uniquely human quality, but can also be attributed to other forms of being, constellations, or inanimate objects, kin_ appeals to the shift in agency between performer and recipient in moments of interaction.
To reveal levels of meaning and aspects in the background of the piece, kin_ was presented in the context of a TEDx talk on avatar design and ethics. Instead of a classical artist talk, we developed a format of dialogue between art and technology, combining different, self-interrupting levels of narrative and debating the design, production and use of mixed reality avatars in the post-digital age.
The interactive dance performance kin_ demonstrates a way to experience dance qualities through virtual means, considering both artistic physical and digital possibilities. It challenges visitors to question expected formats of performances and gives viewers the opportunity to participate in the piece themselves. Like this, the research can be a form of empowerment, participating in the discourse around the performative body and providing a point of view on the ethical issues surrounding the use of virtual bodies.

Download the App now to experience the performance right where you are.
kin_ was launched in August 2021. Funded with Deutscher Künstlerbund, Kunststiftung NRW and NATIONALE PERFORMANCE NETZ – STEPPING OUT, funded by the Federal Government Commissioner for Culture and Media within the framework of the initiative NEUSTART KULTUR. Assistance Program for Dance. 

Supported by DISTEL – data-driven, intelligent storytelling with robots, a project funded by the Ministry of Economic Affairs, Innovation, Digitization and Energy of the state of NRW and the European Regional Development Fund (EFRE).
Supported by LAVAlabs Moving Images.